Chapter Nursery Challenge Grant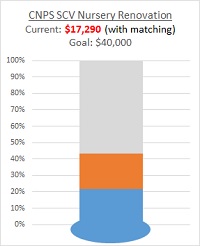 Our nursery, the source of a significant portion of Chapter income and many of the California native plants members and others enjoy in their home gardens, is in the midst of a major renovation. We plan to finish the renovation in 2017 and we estimate it will cost $40,000. An anonymous donor has generously offered to match the first $15,000 contributed to help finance this project on a dollar for dollar basis. All donations are tax deductible and must be received by December 31, 2016 to qualify for matching.
This is the first significant work done at the nursery since it opened in its current location in 1995. The greenhouse will be replaced, the irrigation system upgraded, and the entire space reorganized to create a more efficient work area and a larger, more customer friendly sales area. Our existing plant benches will be augmented with clean and portable metal benches in order to move all plants off the ground to safeguard against the possible spread of pathogens.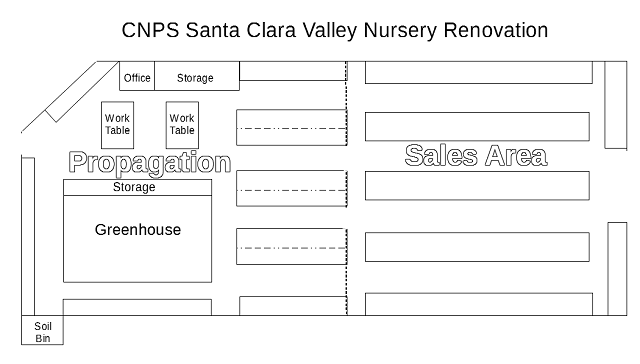 To make a qualifying gift, send a check payable to the CNPS Santa Clara Valley Chapter (CNPS-SCV) to CNPS, 3921 East Bayshore Road, Palo Alto CA 94303. Please indicate on your check that it is for the nursery renovation project. Alternately, donations can be made electronically at https://support.cnps.org/sslpage.aspx?pid=298. Choose "Chapter Donation" in the "Designation" field and then indicate in the Comments section that your gift is for the renovation of the Santa Clara Valley Chapter nursery.
Thank you for helping the Chapter maintain its long history of providing healthy, attractive, drought-tolerant California native plants.