Native Plant Sale Saturday, October 15, 2016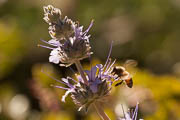 Conserve water and make your garden beautiful this season by introducing California native plants. Native plants also bring habitat value and a sense of place to the garden without requiring chemicals or additional energy. Discover the possibilities at the Native Plant Sale at Hidden Villa Ranch in Los Altos Hills on Saturday, October 15, 2016, 10:00 a.m. to 3:00 p.m.
Garden goals and plant selection advice from Gardening With Natives experts all day. Browse T-shirts, books, posters, and note cards featuring native plants. Coyote Brush Studios and Emily Chin will be there with temporary tattoos, pressed flowers and more. Larry Voss will have bulbs: Calochortus, Triteleia, Fritillaria and Toxicoscordion.
"Give a Gift, Get a Gift" - Renew or purchase a new membership along with a gift membership and receive $5 off both memberships -- save $10! Must purchase a gift membership to receive a discount on a membership renewal. This promotion is only available at the sale.
Free classes and demonstrations:
12:30 - 1:00
Planting demonstration by Krzysztof Kozminski. KK will demonstrate his planting method for native plants.
1:00 - 2:00
 Success with Native Plants by Kevin Bryant. Kevin is a native plant landscape consultant and a past president of our Chapter.
2:00 - 2:45
 Santa Clara Valley Bees by John Kehoe. John will give a presentation on his free ibook, "Santa Clara Valley Bees".
Naturally adapted to the local soil and climate, California native plants thrive without amendments, fertilizers, or pesticides, and offer incomparable habitat value. Fall is an excellent time to plant, when the summer heat has dissipated and rain is just around the corner. Come spring, you will be rewarded with a stunning display of wildflowers. Choose from scores of species of hard-to-find native plants: from deergrass and monkeyflower to redbud and blue-eyed grass, from orchids and lilies to ferns, sedums, and buckwheats. A current inventory will be available at:
http://www.cnps-scv.org/images/stories/nursery/current-plant-list.pdf
Free Plant Design Consulting. Gardening with Natives (GWN) will provide free plant design consulting throughout the day. Bring an accurate scaled drawing of your garden or a screenshot from Google Earth, along with printed pictures, and your garden's sun exposure and views. We'll give you suggestions on which plants would do best in your garden. Many of these plants will be available for sale that day. We'll also have sample garden plans gathered from various sources that you can use as a template for your own garden design. Three garden designers will be available to help you with your specific plant selections, whether you have deer, gophers, extremely heavy clay, rocky soil, etc.
The plants for sale are accurately tagged and lovingly nurtured by volunteers from the local chapter of the California Native Plant Society (CNPS) and by Grassroots Ecology (formerly Acterra) Nursery. The non-profit, all-volunteer CNPS Nursery opens to the public two times a year (spring and fall). Proceeds fund chapter activities such as Gardening With Natives, Field Trips, Conservation, Scholarships, and Education; Grassroots Ecology; and the Trust for Hidden Villa.
The sale takes place Saturday, October 15, 2016, from 10:00 a.m. to 3:00 p.m. at the Hidden Villa Ranch, 26870 Moody Road, Los Altos Hills. The ranch is 2 miles west of the I-280 Moody/El Monte Road exit. Free parking. Come early for the best selection; bring boxes to carry your purchases home. Cash, checks, and charge cards are accepted Free parking. No pets.