Annual Meeting and Potluck with a talk by John Muir Laws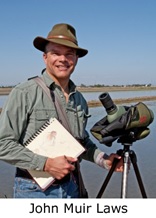 A Short Walk in the Coast Range
(Natural History of the Coast Range)
A talk by John Muir Laws
Saturday, November 12th at 6:00 PM
Shoup Garden House,
400 University Avenue, Los Altos
Join us for our favorite get-together of the year: the annual potluck dinner and election meeting, followed by a talk by John Muir Laws, which will be our annual Brenda Butner Memorial Lecture. The evening is devoted to native plant appreciation, Chapter business, and delectable victuals. It's the party of the year – don't miss it!
Naturalist, educator and artist John (Jack) Muir Laws is in love with the natural world and has lived his life sharing this passion with others. He is trained as a wildlife biologist and is a Research Associate of the California Academy of Sciences. Laws teaches the tools to help people develop as naturalists and stewards and has received several environmental awards for his work. He has written and illustrated books about art and natural history including The Laws Guide to Nature Drawing and Journaling (2016), The Laws Guide to Drawing Birds (2012), The Laws Pocket Guide Set to the San Francisco Bay Area (2009) and The Laws Guide to the Sierra Nevada (2007). He is a regular contributor to Bay Nature magazine with his "Naturalists Notebook" column.
The evening begins at 6pm with our annual potluck. Bring your favorite dish, whether it be a salad, main dish, dessert, or beverage; it always works out that we have just the right amount of everything! A label identifying your dish will be helpful. Be sure to bring a plate, drinking glass, and eating utensils for yourself, as well as a bag to take home unwashed dishes.
If you can help with setup, please arrive at 5pm to set up chairs and tables. The potluck feast will begin at 6pm, followed by the program at 7pm. We appreciate your help with cleanup at the end of the program.
We will also have a silent auction of books and other items which will help raise funds for the Chapter. We will only be offering our best donated books for the silent auction, but we would love any other books you would like to donate, which we will sell at our book table. If you have books or other items to donate, please put them in a bag labeled "CNPS Auction" and drop them off at our (unstaffed) office at the PCC at 3921 E. Bayshore Rd. in Palo Alto on or before Thursday, November 10, or contact Judy Fenerty at This email address is being protected from spambots. You need JavaScript enabled to view it..
CNPS General Meetings are free and open to the public. For more information, contact Chapter President Stephen Rosenthal at This email address is being protected from spambots. You need JavaScript enabled to view it. or the Chapter phone at (650) 260-3450.
Directions: From I-280: take the El Monte exit east. Turn left (north) on University Ave., just before Foothill Expy. The Garden House is 0.6 mile ahead on the left (west) side of the street. From Hwy. 101: take the San Antonio exit west/south. Go 3.5 miles. At the 3rd stoplight after crossing El Camino Real (Edith/Main), bear right on to Main St. (not sharp right into Edith). Continue on Main until it crosses Foothill Expy. and turn left immediately on to University Ave. Bear right; the Garden House is 300 feet ahead on the right.