Gardening
Native Hill - Update January 2018
Author: Frank Niccoli
Native Hill at Foothill College is enjoying a renaissance. Three years ago, Frank Niccoli, an adjunct instructor at Foothill, envisioned a demonstration garden that would show the community the beauty and wisdom of using California Natives in the garden.
The first step was to install an irrigation system. This installation was made possible by a generous donation by Michelle Chu, the owner of The Village Gardener, Inc., who provided the equipment and a crew to dig the trenches and install the valves, piping and heads. Frank Niccoli designed the system and managed the installation. A total of 48 12" popups with low precipitation nozzles (0.45 gpm) were installed. David Sauter, the Director of the horticulture program at Foothill College, along with the valuable assistance from Mike Diefenback and a crew of student labor, finished the installation.
In the Spring of 2017 the plant installation and maintence class at Foothill pruned plants that had not been touched in years. They removed concrete, trash, an old drip system that never worked and established a rough outline of a pathway. They also installed the first of many plantings and sheet mulched. Niccoli commented, "I cannot wait for the new direction this garden will take. This will enhance the learning experience of the Hort Geeks and the Biology Department Foothill College by giving them a living laboratory."
Native Hill - Update March 2016
Author: Tom Lee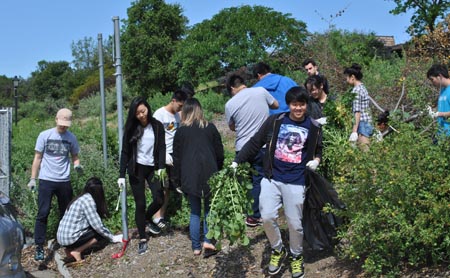 Foothill College is making progress in improving Native Hill. Recently Foothill College completed some Measure C construction work in areas adjacent to Native Hill. For example, the parking lot pathway that divided the Native Hill into two gardens was improved. While this construction was underway, a long awaited irrigation project was put on hold. Now that the Measure C work is completed, most of the Native Hill garden has a new irrigation system installed and the irrigation system will be soon connected to an irrigation controller. In the meantime there are occasional workdays at Native Hill with students from the Horticulture and Biology Departments.
Many of the specimen plants, most of which date back to CNPS, are mature sized. Several species are blooming profusely right now. The newly routed bus passes by a row of Salvias, Aesculus, Arctostaphylos and Cercis that inspire the students with native plants. As with any garden keeping up with the ongoing maintenance tasks is a challenge, and more volunteers can make a big impact in keeping Native Hill in top shape.
The photos above and below were taken by Tom Lee on March 18, 2016, as he joined a workday at Native Hill with a large group of Biology students.  The work was pulling out weeds and invasive grasses and then applying mulch.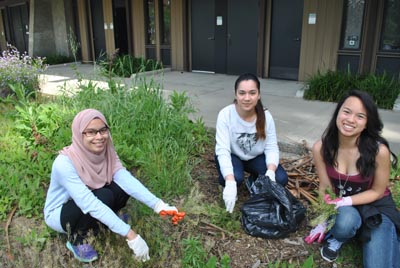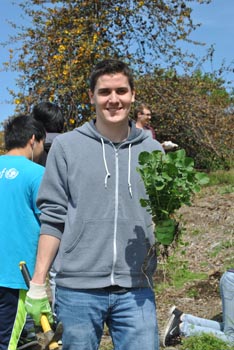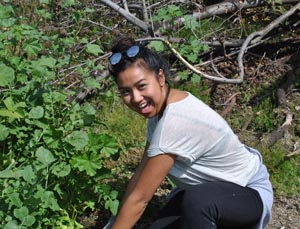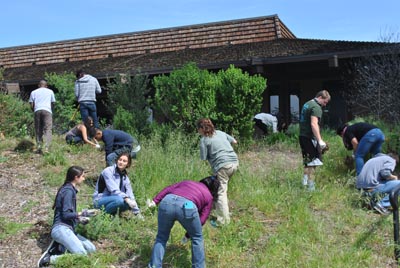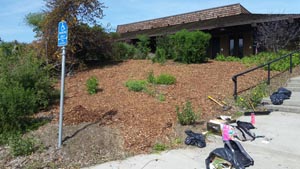 Subcategories
Do you want a garden teeming with life? One that changes with the seasons? One that looks stunning? One that saves water, energy, effort, and money? Consider incorporating California native plants in your garden to attract butterflies, birds, and other wildlife. These beautiful plants will bring seasonal color to your landscape. They will give your California garden a unique sense of place.
This website is for gardeners and home owners who want to learn how to grow California native plants in their landscapes. Visit this site to find out about talks, classes, workshops, garden tours, native plant sales, and other events where you can learn more. Visit this site for plant lists and useful articles on the propagation, growth, and care of native plant gardens.
 Gardening with Natives is a special interest group of the Santa Clara Valley Chapter of the California Native Plant Society. The group contains a mix of beginners and seasoned professionals, and is a great place to learn. Newcomers are particularly welcome.  Gardening With Natives maintains a discussion egroup where people can ask questions, get answers, offer advice, and stay informed about upcoming events. Sign up below to participate in this forum. Membership is voluntary. Email traffic ranges from 10 to 20 messages a day. You can opt for individual emails or a daily digest.
The fall Seed Exchange is held at the Peninsula Conservation Center (PCC) in Palo Alto. 
For other queries, contact the Gardening With Natives Steering Committee at This email address is being protected from spambots. You need JavaScript enabled to view it..