CNPS Santa Clara Valley Home
Santa Clara Valley Chapter of CNPS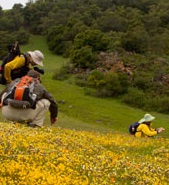 The California Native Plant Society (CNPS) is a non-profit organization dedicated to the understanding and appreciation of California's native plants and how to conserve them and their natural habitats through education, science, advocacy, horticulture, and land stewardship.
The Santa Clara Valley Chapter of CNPS covers Santa Clara County and southern San Mateo County. It offers activities focusing on the many aspects of native plants, from gardening, plant identification, and photography to conservation and rare plants. Activities include talks and lectures and workshops, field trips, native plant sales, wildflower show, restoration workdays, and more. The chapter was founded in 1972; more history can be found here.
Rare Plant Hotspots in San Mateo and Santa Clara Counties
By Elan Alford, Rare Plants Chair, San Mateo County - April 12, 2017
Where are rare plants found in the Santa Clara Valley chapter? What is different about different parts of the chapter service area? Think about where you may live, or work. Do you know where a rare plant hotspot is near you? Have you been to any of these places and seen the rare plants in their habitats?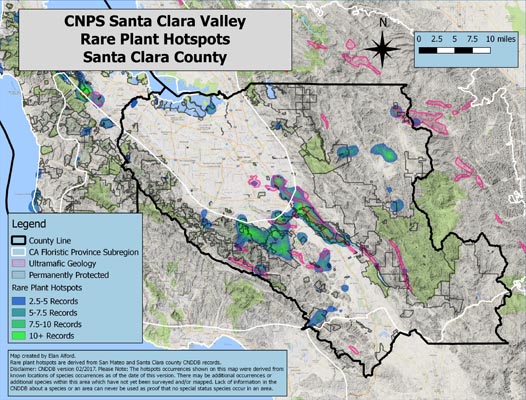 There is a state level CNPS effort underway to identify conservation priority areas. The program is covered in the 2015-2016 Conservation Report, available from the CNPS website. The state level program is called the IPA Initiative. IPA stands for "Important Plant Areas". The goal is to create a statewide database and comprehensive map of the most important plant conservation targets. It seems that the idea germinated at the state level after the East Bay Chapter produced their guidebook, Guidebook to the Botanical Priority Protection Areas by Heath Bartosh, Lech Naumovich, and Laura Baker.