Home
Native Plant Sale -- Saturday, October 17, 2015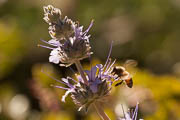 Scores of species of California native plants well-suited for our gardens and wildlife will be on sale at Hidden Villa Ranch on Saturday, October 17, 2015. Speak to experts about lawn alternatives such as native perennials, wildflowers, and grasses. Native plant books, posters, and note cards will also be on sale.
This sale is organized by the Santa Clara Valley chapter of the California Native Plant Society (CNPS). Hidden Villa Ranch is located at 26870 Moody Road, Los Altos Hills, 2 miles west of I-280. Come early for the best selection. Cash, check, or credit cards are accepted. Bring boxes to carry purchases home. Free parking. No pets.   
NEW: CNPS members can now purchase plants, books and "Native Plants Live Here" signs (and anyone can become a member, or update their membership) at our Monthly Member Sale Day held during nursery workdays. Sale days in 2015 are Wednesday August 26, and Wednesday September 30, from 10 am to 1 pm. In October there will be no Monthly Member sale day - just the Fall Sale. The Monthly Member sales will resume on November 4 and continue on the first Wednesdays of the month during winter workday hours, noon – 3 pm.  (Check the Calendar for the latest dates and times.). Please bring boxes to carry purchases home.
Bee's bliss sage is a ground cover that blooms in the spring, attracting bees.
Sign Up
CNPS-SCV News: The Santa Clara Valley Chapter emails announcements about upcoming events (talks, hikes, sales, wildflower show, garden tour), alerts, last-minute notices, and late-breaking news. Sign up below for email notification. There are 5-10 announcements per month.
To join the group, please send an e-mail to: cnps-scv-news+subscribe@googlegroups.com.
Help Fund Scholarships For Years To Come
Since 1999, the Santa Clara Valley Chapter of the California Native Plant Society (CNPS) has given scholarships to graduate students whose research is likely to make a positive impact on the local botany and ecology. CNPS uses these scholarships to encourage students to choose thesis topics that relate to our local flora. These scholarships help foster a new generation of scientists interested in preserving what is left of Santa Clara and San Mateo County's plants, butterflies, and birds.
Download the full document to learn more.