CNPS Santa Clara Valley Home
CNPS Santa Clara Valley Native Plant Sales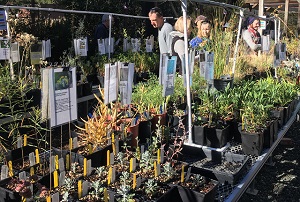 Native Plant Sales are held by the Santa Clara Valley chapter of the California Native Plant Society (CNPS) and provide the majority of the operating funds for the Chapter.   Inventory is updated the week before each sale. Here is the most recent inventory. You can check the weather at the nursery on our Bloomsky Weather Station.
---
Monthly Member Sale
CNPS members can purchase plants, t-shirts and "Native Plants Live Here" signs at our Monthly Member Sale Day held during some nursery workdays. You can become a member or update your membership online or at the sale. Our upcoming sale dates are:
Wednesday, April 4, 11am - 2pm
Wednesday, May 2, 11am - 2pm
Wednesday, June 6, 11am - 2pm
Check the Events Calendar for the latest dates and times.
Santa Clara Valley Chapter of CNPS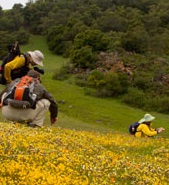 The California Native Plant Society (CNPS) is a non-profit organization dedicated to the understanding and appreciation of California's native plants and how to conserve them and their natural habitats through education, science, advocacy, horticulture, and land stewardship.
The Santa Clara Valley Chapter of CNPS covers Santa Clara County and southern San Mateo County. It offers activities focusing on the many aspects of native plants, from gardening, plant identification, and photography to conservation and rare plants. Activities include talks and lectures and workshops, field trips, native plant sales, wildflower show, restoration workdays, and more. The chapter was founded in 1972; more history can be found here.