CNPS Santa Clara Valley Home
Chapter Nursery Challenge Grant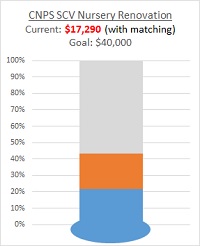 Our nursery, the source of a significant portion of Chapter income and many of the California native plants members and others enjoy in their home gardens, is in the midst of a major renovation. We plan to finish the renovation in 2017 and we estimate it will cost $40,000. An anonymous donor has generously offered to match the first $15,000 contributed to help finance this project on a dollar for dollar basis. All donations are tax deductible and must be received by December 31, 2016 to qualify for matching.
Santa Clara Valley Chapter of CNPS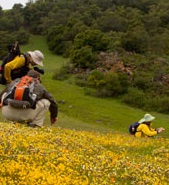 The California Native Plant Society (CNPS) is a non-profit organization dedicated to the understanding and appreciation of California's native plants and how to conserve them and their natural habitats through education, science, advocacy, horticulture, and land stewardship.
The Santa Clara Valley Chapter of CNPS covers Santa Clara County and southern San Mateo County. It offers activities focusing on the many aspects of native plants, from gardening, plant identification, and photography to conservation and rare plants. Activities include talks and lectures and workshops, field trips, native plant sales, wildflower show, restoration workdays, and more. The chapter was founded in 1972; more history can be found here.