CNPS Santa Clara Valley Native Plant Sales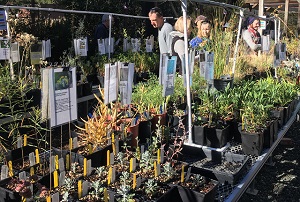 ---
Due to COVID-19, we've had to cancel the plant sales at the nursery until further notice. We still have plenty of plants that you can purchase through our online store:
https://california-native-plant-society-santa-clara-valley-chapter.square.site/
Since the nursery is not open to the public, pickup is not available, and there will be a $25 delivery fee for each order regardless of size. We are a completely volunteer-run nursery, and we are only able to deliver orders between Belmont and San Jose.
You do not have to be a member to buy plants from our online store.

We're still figuring this online thing out, so please bear with us as we launch our new store. We will do everything we can to fill your orders quickly and get your plants to you, but we are all volunteers. We are adding new stock on a regular basis, so if you don't see what you want, please keep checking the store. We currently do not have an online inventory outside the store -- what you see in the store is what's available.

All proceeds from the nursery go toward supporting our Chapter's activities. Thanks so much for your support!
Fall Public Sale
Our Fall Sale started on October 10, 2020. More information is available at: http://cnps-scv.org/2020-plant-sale
Our Native Plant Sales provide the majority of the operating funds for the Chapter.