Donations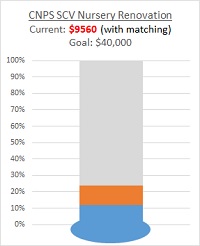 Our nursery, the source of a significant portion of Chapter income and many of the California native plants members and others enjoy in their home gardens, is in the midst of a major renovation. We estimate it will cost $40,000. An anonymous donor has generously offered to match the first $15,000 contributed to help finance this project on a dollar for dollar basis.
To make a qualifying gift, send a check payable to the CNPS Santa Clara Valley Chapter (CNPS-SCV) to:
CNPS Santa Clara Valley Chapter 
3921 E. Bayshore RoadPalo Alto, CA 94303 
Please indicate on your check that it is for the nursery renovation project. Alternately, donations can be made online. Choose "Chapter Donation" in the "Designation" field and then indicate in the Comments section that your gift is for the renovation of the Santa Clara Valley Chapter nursery.
Unrestricted donations for the chapter are also welcome and may be made online or by check. If you donate online, choose "Chapter Donation" under "Designation, and then specify "Santa Clara Valley Chapter" in the Comment section that appears.
Your donations to CNPS are tax deductible (CNPS Tax ID: 94-6116403)