CNPS Santa Clara Valley Chapter Field Trips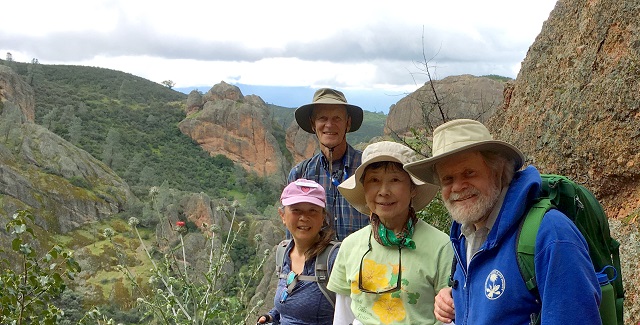 Chapter field trips are free and open to the public.  Field trips are oriented to conservation, protection and enjoyment of California native plants and wildlife.  A list of completed field trips and reports can be found here.
 Many other upcoming chapter activities are listed in the Blazing Star. You can also find many of our chapter field trips and activities on our Meetup Group. 
 In our region it is important to be prepared for hiking on rugged and steep terrain, wide temperature ranges and rapidly changing conditions at any time of year.  All participants should wear sturdy footwear and carry sufficient water, sun protection, food, clothing layers, personal first aid and other supplies you may need.  If you have any questions about your ability to participate in a particular field trip, please contact the trip leader in advance.
---
2018
NOVEMBER
Sun Nov 25, 10am – 4:00pm Uvas Canyon County Park (Morgan Hill) [rescheduled from Nov 17]
Join Ken and Dee Himes on a 3-4 mile hike in this mostly shady woodland of mixed evergreens including redwoods, madrones, sycamores, alders, and big-leaf maples. There are also isolated populations of Oregon grape (Berberis nervosa) here, which is more commonly found north of the Golden Gate. We expect to see different types of fruiting bodies and some fall color changes.
We'll meet at the park entrance. The hike will be moderate in intensity, with an elevation gain of about 700 feet. We will walk at a fairly leisurely pace, stopping for lunch about half way. Be sure to wear good hiking shoes. A walking stick could be useful. Bring a lunch and plenty of water. There is a $6+ fee per car (bring exact/extra change). Heavy rain cancels. For more information contact Ken at (650) 591-8560.
Directions: From Hwy. 101, take Bernal Rd. west. Turn left on Santa Teresa Blvd. Travel south 3 mi. and turn right onto Bailey Ave. Follow Bailey 3.0 mi. to McKean Rd. Turn left onto McKean. (McKean becomes Uvas Rd. 2.2 mi. south of Bailey.) From Bailey travel 6 mi. south on McKean/Uvas Rd. and turn right onto Croy Rd. Continue 4.4 mi. on Croy, through Sveadal (a private resort), to reach the Park entrance. For more about the park visit https://www.sccgov.org/sites/parks/parkfinder/Pages/UvasCanyon.aspx

Sun Nov 25, 10am - 3pm  Trees and Shrubs of Santa Clara Valley: a Plant Id Walk @ Rancho Cañada del Oro (Morgan Hill)
It is said that a place feels like home when you can name the native trees and shrubs around you. Join Arvind Kumar and Stephen Rosenthal to learn about the trees and shrubs native to our area.
We will walk through a variety of native habitats: grassland, oak woodland, sage-chaparral scrub and riparian. Expect to see a variety of oaks, bay laurel, madrone, bigberry manzanita, toyon, coffeeberry, buckeye, holly-leaved cherry and snowberry. Trail vista points offer spectacular views of the Diablo Range and Mt. Hamilton. Beginners interested in plant identification are welcome.
Bring a hat, water, and a bag lunch. Dress in layers and appropriately for late fall weather. Heavy rain cancels. We'll cover 4.3 miles with 500' of elevation gain.
Space is limited. Please RSVP through the CNPS SCV Meetup site:
www.meetup.com/California-Native-Plant-Society-Santa-Clara-Valley-Chapter/.
Directions: We'll meet in the preserve parking lot at 10am, at 4289 Casa Loma Rd. in Morgan Hill. From Hwy. 101 South take Bailey Ave. west to McKean Rd. Turn left onto McKean Rd. and head south, past Calero County Park. Turn right on Casa Loma Rd. and follow it to the park entrance. The parking lot is on the left. For a map and detailed directions visit goo.gl/maps/paLx2kuHoV82.

DECEMBER
Sun Dec 23, 9am - 12pm Beginner's Bird and Plant ID Walk at Lake Cunningham (San Jose)
At the onset of winter, join us for a beginner's bird and plant identification walk through Lake Cunningham Park. The lake is a major destination for waterfowl and migratory birds. The park's native garden draws many birds for its habitat value. On this walk, Vicki Silvas-Young will show you how to identify the common birds of our area, as well as the native plants they depend on for food, shelter and nesting places.
The distance will be 4 miles round trip on a level path. Bring a hat, water, your plant and bird lists, and binoculars. Wear comfortable walking shoes. Parking fee is $6.
Space is limited. Please RSVP through the CNPS SCV Meetup site:
www.meetup.com/California-Native-Plant-Society-Santa-Clara-Valley-Chapter. This walk is organized jointly by CNPS, Santa Clara Valley Audubon Society and Santa Clara Valley Open Space Authority.
---
2019
JANUARY
Tue Jan 1  10am - 1pm  Año Nuevo State Preserve New Year Hike (San Mateo County)
Join us as we celebrate a Chapter tradition of welcoming the New Year with a walk and picnic at Año Nuevo State Preserve on the San Mateo County coast.  Trevlyn Williams, Chapter member and a docent at this preserve, will lead the hike, highlighting its marine ecology and history. The preserve is located south of Pescadero on Highway 1, just north of the Santa Cruz County line. We'll meet in the parking lot ($10 day use fee or valid CA State Park Pass) at 10am.  Latecomers will find us on the trail in the coastal prairie.  We'll enjoy ocean views, sea cliff vegetation, raptors, songbirds and maybe marine mammals. This field trip is restricted to the area of the park that is open to the public. We will not visit the beach where the elephant seals gather.
We will face an outgoing tide that morning and will see whether we can picnic on the beach (in the area in which seal tour reservations are not required). As this is a day to have fun at the beach with fellow Chapter members, the ending time and depth of botanical discussion may be extended depending on participants.  We will finish at the visitor center. Bring binoculars and layers of clothing for variable conditions including wind, sun and fog. Extreme weather cancels. For more information, contact Joerg Lohse at This email address is being protected from spambots. You need JavaScript enabled to view it..

Tue Jan 8  7:00-8:30pm  Field Trip Planning Meeting - PCC (Palo Alto)
We will be scheduling the remainder of the spring and summer field trips, plus any field trips we may want to have for the rest of the year. With more knowledge of the winter weather patterns, we may make plans for away trips.
All are welcome to join in the discussion. For further information contact Joerg Lohse, Field Trip Chair, at This email address is being protected from spambots. You need JavaScript enabled to view it..
The Peninsula Conservation Center (PCC) is located at 3921 E. Bayshore Road in Palo Alto.

Sat Feb 9  9:00am – 1:30pm  Fetid Adder's Tongue, Pulgas Ridge Open Space Preserve (Redwood City)
Join Alf Fengler, Ken and Dee Himes for a proper start of the spring wildflower season with a pleasant walk through this easily accessible Open Space Preserve. We often see over 1,000 individual wildflowers in bloom this early in the season!
As experienced docents at Edgewood, Alf and Ken will be able to point out some flowering plants in Pulgas Ridge that don't occur at Edgewood, such as fetid adder's tongue (Scoliopus bigelovii) and coast man-root (Marah oreganus). This trip will be an easy 3-mile loop hike through oak woodland, mixed evergreen woodland, chamise chaparral, and coastal scrub, combined with a little bit of riparian woodland. If needed, we will split into two or three groups to provide a more individualized experience.
The trip will include an elevation gain and loss of about 400 feet. For more information contact Alf Fengler at This email address is being protected from spambots. You need JavaScript enabled to view it. or (650) 345-7045. Heavy rain cancels.
Directions: From I-280, take the Edgewood Rd. exit in San Carlos and head east. Go downhill to the first left, which will be Crestview Dr. Make an immediate left at Edmonds Rd. and proceed to the preserve parking lot on the right. If the lot is full, park on the opposite side of the road in the large unpaved area. We'll meet in the parking lot.

Sat Feb 16  10:00am - 3:00pm  Dirca - Stevens Creek County Park (Saratoga)
Join Don Thomas for a four mile walk to see the southernmost population of the endemic western leatherwood (Dirca occidentalis).  We will also see some early emerging woodland plants in flower.  There will be some moderate but slow-paced hill climbing, with a stop for lunch. As the most southern population of this endemic species, it may be the most impacted by climate change. We will try to monitor the health and viability of the population and, if possible, get a better population count.
We will meet at the park parking lot near the intersection of Stevens Canyon Road and Mt. Eden Road. For more information, please contact Don Thomas at This email address is being protected from spambots. You need JavaScript enabled to view it. or (408) 828-4044.
Please bring lunch, snacks and liquid.  Heavy rain cancels.