CNPS Santa Clara Valley Chapter Field Trips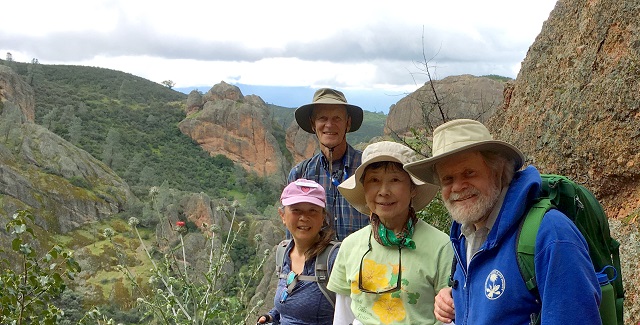 Chapter field trips are free and open to the public.  Field trips are oriented to conservation, protection and enjoyment of California native plants and wildlife.  A list of past field trips and reports can be found here.
 Many other upcoming chapter activities are listed in the Blazing Star. You can also find many of our chapter field trips and other activities on our Meetup Group.  Signing up on Meetup allows the trip leaders to send notifications in case of changes or cancellations.
 In our region it is important to be prepared for hiking on rugged and steep terrain, wide temperature ranges and rapidly changing conditions at any time of year.  All participants should wear sturdy footwear and carry sufficient water, sun protection, food, clothing layers, personal first aid and other supplies you may need.  Cell service is mainly restricted to cities and major highways. On your way to an outing do not rely solely on your phone. If you have any questions about your ability to participate in a particular field trip, please contact the trip leader in advance.
---
FEBRUARY

Sun Feb 23 10am – 4pm Hazelnut Trail, Montara Mountain, San Pedro Valley County Park (Pacifica)
Join co-leaders Ken and Dee Himes on an early spring outing at San Pedro Valley County Park. We expect to see some early blooms: Montara manzanita (Arctostaphylos montaraensis), pink-flowering currant (Ribes sanguineum glutinosum), fetid adder's tongue (Scoliopus bigelovii), Oregon windflower (Anemone oregana) and others.
The trip will be a moderate 4-5 mile loop hike through coastal scrub and chaparral plus some riparian woodland. It will include an elevation gain and loss of about 600 feet and is expected to last until 4pm. For more information contact at Dee at This email address is being protected from spambots. You need JavaScript enabled to view it. or Ken at (650) 591-8560.
Directions: The Park is located at 600 Oddstad Blvd. in Pacifica. From the South Bay, take I-280 North then merge onto Skyline Blvd./CA-35 via exit 41 toward Pacifica. After 3.5 mi. turn left onto Sharp Park Rd. down towards the coast. Follow the signs for Cabrillo Hwy./CA-1 South toward Santa Cruz. Go for 2.5 mi. then turn left at Linda Mar Blvd., go for 2 more miles to where the road ends at Oddstad. Turn right and then immediately left into the park. The County Park day use fee is $6 per vehicle, bring exact change.
We'll meet at 10am in front of the Visitor Center. Bring water and a lunch, snacks. Very heavy rain cancels.
---
MARCH

Sun Mar 8 9am – 1pm Spring Hike on Stile Ranch Trail (San Jose)
Join Dee and Ken Himes for a 3-4 mile early spring wildflower hike to Stile Ranch Trail, through serpentine grasslands and chaparral. This will be a great trip for those who are interested in plants and flowers that are endemic to the serpentine soil profile and seeps, and also for those who are new to field trips and native plants.
The hike will be moderate in intensity with steep slippery slopes. We are starting earlier in the day to beat limited parking space and the heat as it gets pretty HOT, and there's no overhead shade until we get to the Fortini Trail. Bring extra water, snacks, a bag lunch, a wide brim hat and walking stick(s). We meet at the parking lot at 9am. No parking fee. Parking is on San Vicente Road.
Directions: Coming from HWY85, take exit to head towards Almaden Expressway ending on Harry Road, turn right on Harry Road, left on McKean Road at the stop sign, left on Fortini Road, left again on San Vicente Road. Your parking is on the right at the Stile Ranch Trailhead. There are no restroom facilities here. There are facilities and additional parking on McKean Road across from Fortini Road in the new Calero Park Rancho San Vicente Parking Area. DO NOT GO TO THE MAIN AREA OF SANTA TERESA COUNTY PARK - WE ARE NOT THERE. For more information contact Dee at This email address is being protected from spambots. You need JavaScript enabled to view it..

Sun Mar 15 10am – 4pm San Bruno Mountain State & County Park (Brisbane)
Join Ken and Dee Himes for a hike along the Summit Loop Trail to see early flowering plants in the coastal scrub and coastal grassland plant communities. We expect to see footsteps of spring (Sanicula arctopoides), Franciscan wallflower (Erysimum franciscanum) and the endemic San Bruno Mountain manzanita (Arctostaphylos imbricata). The hike will be 3.5 to 4 miles in length with 800 feet in elevation changes.
Dress warmly in layers as it can be very windy, and wear sturdy shoes or hiking boots. Hiking poles are recommended as some areas are very steep. Bring snacks, a sack lunch and liquids for the day. Heavy rain cancels. For more information call Ken at (650) 591-8560 or email Dee at This email address is being protected from spambots. You need JavaScript enabled to view it..
Directions: From Hwy. 101 northbound, take the Old Bay-shore/Brisbane exit and proceed north on Old Bayshore, past the town of Brisbane. Make a left turn onto Guadalupe Cyn. Pkwy., and follow it uphill (west) about a mile and a half to the park entrance. We will meet at the parking lot just beyond the entrance kiosk. There is a $6 day use / parking fee at pay station; bring exact change or credit card.

Sun Mar 22 9am – 12pm Bird and Plant ID Walk at Lake Cunningham Park (San Jose)
As spring begins, join us for a beginner's bird and plant identification walk through Lake Cunningham Park. This park is a major destination for waterfowl and migratory birds and its native garden draws many birds due to its habitat value. On this walk, Vicki Silvas-Young will show you how to identify the common birds of our area, as well as the native plants they depend on for food, shelter, and nesting places.
The distance is 4 miles round-trip on a level path. Bring a hat, water, your bird and plant list, and binoculars. Wear comfortable walking shoes.
Directions: Meet at the Marina building at 9:00 am. The Marina is on the western shore of the lake, next to Raging Waters, at the opposite end of the park from the main entrance on White Road. Parking fee is $6. In Google Maps, search for "Lake Cunningham Marina" to be directed to the Marina.
Space is limited. Please RSVP via meetup.com (search for "California Native Plant Society - Santa Clara Valley Chapter") to reserve your spot. Cosponsored by CNPS, Santa Clara Valley Audubon Society and Santa Clara Valley Open Space Authority.
---
APRIL

Sun Apr 12 10am – 4pm Mount Tamalpais North Side Loop Hike (Marin County)
Join Ken and Dee Himes for a fairly long and rough loop hike through Douglas-fir woodland, and Serpentine Chaparral where the area is quite diverse with various species of Ceanothus and Arctostaphylos such as Ceanothus jepsonii and the endemic Arctostaphylos montana ssp montana not found in the Santa Cruz Mountains. We will also walk through picturesque Sergeant Cypress (Hesperocyparis sargentii) woodland..
Wear sturdy hiking boots with ankle support for rough trails, about 4 miles in length, with gradual elevation gain/loss of 500 feet. Bring snacks, lunch, and water.
Directions: Take Hwy. 101 north to the Hwy. 1/Stinson Beach turn-off and follow the signs to Mt Tamalpais. 1.4 miles past Pantoll Campground, take the right branching road on to Pantoll Rd. until you intersect Ridgecrest Dr. Cross Ridgecrest into the Rock Spring Parking Area. We'll meet at 10am sharp at Rock Springs trailhead. Travel time/distance to the parking area is about 30 min./10 mi. from the Hwy. 1/Stinson Beach turn-off onto Hwy. 1. Allow additional travel time through San Francisco. For more information, email This email address is being protected from spambots. You need JavaScript enabled to view it..

Thu Apr 16 9:30am – 4pm Calero Park - Rancho San Vicente (San Jose)
Join Judy Fenerty for a four- to six-mile moderately strenuous hike through the Rancho San Vicente addition to Calero County Park. Rancho San Vicente has significant serpentine grasslands as well as oak savanna, chaparral and riparian areas and striking views of the Almaden Valley and Calero Reservoir.
We will be following ranch roads, some of which are rough, rocky and slippery, and we may go off-road to see some species. Elevations range from about 440 to 1,070 feet with some short steep grades and a cumulative elevation gain of around 1,000 ft. Wear sturdy hiking footwear. Much of the area has little or no shade. Dress in layers and bring plenty of water! Santa Clara County Parks utilizes cattle grazing to control invasive grasses, so be aware that cattle may be present.
Directions: Meet in the new parking lot with restrooms and potable water on McKean Rd across from Fortini Rd in San Jose. For more information contact Judy Fenerty at This email address is being protected from spambots. You need JavaScript enabled to view it. (preferred), or (408) 655-3493.