CNPS Santa Clara Valley Chapter Field Trips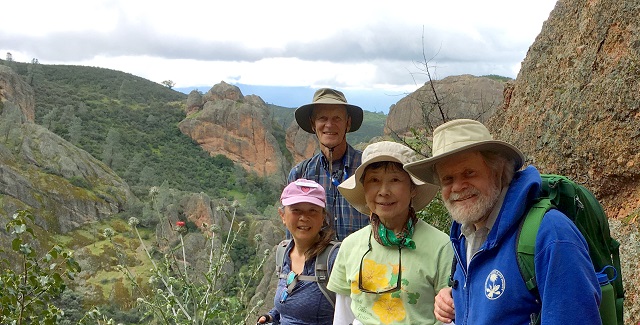 Chapter field trips are free and open to the public.  Field trips are oriented to conservation, protection and enjoyment of California native plants and wildlife.  A list of past field trips and reports can be found here.
 Many other upcoming chapter activities are listed in the Blazing Star. You can also find many of our chapter field trips and other activities on our Meetup Group.  Signing up on Meetup allows the trip leaders to send notifications in case of changes or cancellations.
 In our region it is important to be prepared for hiking on rugged and steep terrain, wide temperature ranges and rapidly changing conditions at any time of year.  All participants should wear sturdy footwear and carry sufficient water, sun protection, food, clothing layers, personal first aid and other supplies you may need.  Cell service is mainly restricted to cities and major highways. On your way to an outing do not rely solely on your phone. If you have any questions about your ability to participate in a particular field trip, please contact the trip leader in advance.
---
JUNE

Sun Jun 23 9am - 12pm First Day of Summer Beginner's Bird and Plant Identification Walk at Lake Cunningham Park (San Jose)
Deepen your appreciation of nature by learning to identify the birds and plants around you. At the onset of summer, join us for a beginner's bird and plant identification walk through Lake Cunningham Park. This park is a major destination for waterfowl and migratory birds, and its native garden is visited by many birds due to its habitat value. On this walk, Vicki Silvas-Young will show you how to identify the common birds of our area, as well as the native plants they depend on for food, shelter, and nesting places. Difficulty Level: The distance is 4 miles round trip on a level path. Notes: Bring a hat, water, your bird and plant list, and binoculars. Wear comfortable walking shoes.
The park is located at 2305 S White Road, San Jose. Meet at the Marina building at 9am. The Marina is on the western shore of the lake, next to Raging Waters, at the opposite end of the park from the main entrance on White Road. In google maps, search for "Lake Cunningham Marina" to be directed to the Marina. Parking fee is $6.
This plant walk is organized jointly by the California Native Plant Society, Santa Clara Valley Audubon Society, and the Open Space Authority, and is open to all. Space is limited. RSVP through meetup.com ("California Native Plant Society – Santa Clara Valley Chapter") or the OSA Events page.
---
JULY

Jul 4 - 7, Wed - Sun Ebbetts Pass, Alpine Lake and Calaveras Big Trees State Park (Arnold)
Fred and Patricia Evans invite you to join them at their cabin in Arnold for three days of wildflower hikes over the July 4 weekend.
We will explore Inspiration Point at Alpine Lake, Calaveras Big Trees State Park, and the Pacific Crest Trail at Ebbetts Pass. It will be spring at the pass at an elevation of 8,736 feet and the wildflowers will be amazing! This itinerary is subject to change, depending on weather and conditions.
The cabin sleeps 17 (dorm style). There is room for tents in the yard, and two small RVs or vans can hook to electricity in the driveway. Dinners will be potluck and popcorn is provided.
This trip is open to CNPS members only. For more information or to reserve your spot, contact Patricia Evans at This email address is being protected from spambots. You need JavaScript enabled to view it. or (650) 949-2801.