Help Wanted - Outreach Coordinator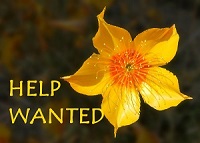 The Chapter is in need of an Outreach Coordinator, and we are looking for a member to fill this important role. This is a fun volunteer position that lets you share your enthusiasm for CNPS with the general public and engage with chapter members. This volunteer position does not require any knowledge of plants, and does not involve a big time commitment.  If you are interested in this volunteer position and would like to receive more detailed information please contact Toni Gregorio-Bunch at This email address is being protected from spambots. You need JavaScript enabled to view it. or call 408-373-4497.
The Outreach Coordinator promotes our chapter events and the work of the California Native Plant Society through various public forums. The Coordinator works with chapter volunteers to staff information tables at community events such as San Jose University Earth Day, Pacheco Park Wild Flower Day, Mountain View Arbor Day, Midpeninsula Regional Open Space Wing Ding Festival, and other nature and gardening related forums.
Every year the Coordinator receives invitations to public events from different organizations. He or she decides which ones the chapter should participate in, and then sends out an e-mail to chapter members asking for volunteers to staff an information table. The Coordinator does not have to attend any event, but is responsible for finding volunteers to staff tables. He or she also needs to coordinate with volunteers to get any needed supplies to and from the event. This is a volunteer position.