Rare Serpentine Plants Receive Federal Protection
Seven rare serpentine plants of San Mateo and Santa Clara Counties receive federal protection
The Blazing Star, March/April 1995
Seven rare serpentine plants of San Mateo and Santa Clara Counties receive federal protection Serpentine-rich soils have long been known in our area to provide some of the best spring color displays. This is because the Mediteranean annual grasses cannot tolerate the low calcium and high magnesium of serpentine soils and therefore don't compete with the native annuals that were once so plentiful in our state. Unfortunately, we have been losing these serpentine grasslands to housing, highways and other development, with the result that we have endangered some rare species, some of which now exist only in one location.
While the state passed legislation two years ago to protect these species, the federal government has added their protection as of early this month. While the listings impose few direct restrictions on private land owners, they provide much tougher protection for the plants on public land, or on private lands where acitvities require federal permits.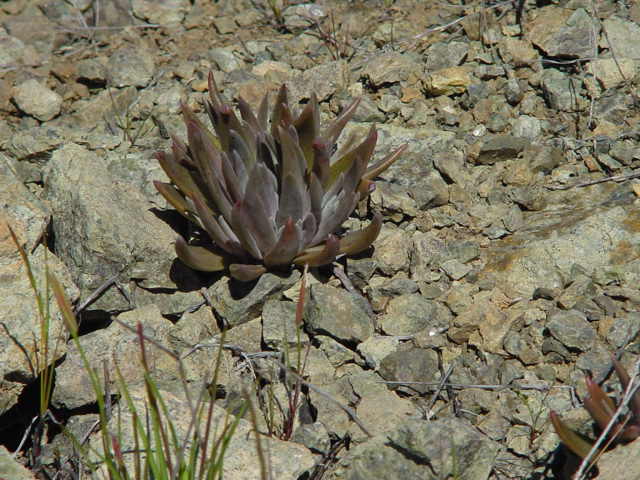 Included in the listing are the Santa Clara Valley dudleya (Dudleya setchellii), Metcalf canyon jewelflower (Streptanthus albidus ssp. albidus), Coyote ceanothus (Ceanothus ferrisae), all from Santa Clara County; and the fountain thistle (Cirsium fontinale var. fontinale), San Mateo woolly sunflower (Eriophyllum latilobum), white-rayed pentachaeta (Pentachaeta bellidiflora), and the Marin western flax (Hesperolinon congestum), all from San Mateo County. In addition one plant from San Francisco was listed (the Clarkia franciscana), and two from Marin, the Tiburon jewelflower and Pennell's birdbeak.
Thanks to the Rare plant committee for their earlier work on these species, and particularly to members Toni Corelli, Zoe Chandik, and Sara Timby for petitioning for their protection.