Plant Sale
CNPS Santa Clara Valley Native Plant Sales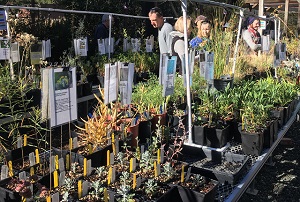 Native Plant Sales are held by the Santa Clara Valley chapter of the California Native Plant Society (CNPS) and provide the majority of the operating funds for the Chapter.   Inventory is updated the week before each sale. Here is the most recent inventory. You can check the weather at the nursery on our Bloomsky Weather Station.
---
Monthly Member Sale
CNPS members can purchase plants, t-shirts and "Native Plants Live Here" signs at our Monthly Member Sale Day held during some nursery workdays. You can become a member or update your membership online or at the sale. Our upcoming sale dates are:
Saturday, February 17 11am - 2pm
Wednesday, March 7, 11am - 2pm
Wednesday, April 4, 11am - 2pm
Check the Events Calendar for the latest dates and times.