Plant Sale
CNPS Santa Clara Valley Native Plant Sales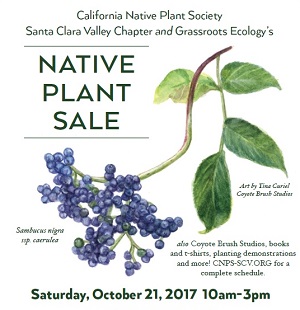 Native Plant Sales are held by the Santa Clara Valley chapter of the California Native Plant Society (CNPS) and provide the majority of the operating funds for the Chapter. Public plant sales occur once or twice a year at the nursery. Pop-up public sales are also held occasionally during Chapter events such as the Wildflower Show, Going Native Garden Tour and Native Horticultural Symposiums. Sales for CNPS Members are held almost every month.  Inventory is updated the week before each sale. Here is the most recent inventory.
You can check the weather at the nursery on our Bloomsky Weather Station.
---
Public Native Plant Sale

The public Native Plant Sales held at the nursery offer scores of species of native plants suitable for California gardens. Our 2017 Sale includes:
11:30am: A planting demonstration by Krzysztof Kozminski.
1:00pm: A free talk: Success with Native Plants for Beginners by Kevin Bryant
There will also be opportunities to speak to experts about native perennials, wildflowers, and grasses. Native plant books, posters, and note cards will be available. Coyote Brush Studios and Emily Chin (pressed-flower cards and more) and Larry Voss (bulbs) will be there as well. Grassroots Ecology Nursery has a booth featuring locally native plants.  
In 2017, our only public sale will be held on Saturday, October 21, 10 - 3pm. We will not have a public sale at the nursery in the spring.
---
Monthly Member Sale
CNPS members can purchase plants, t-shirts and "Native Plants Live Here" signs at our Monthly Member Sale Day held during some nursery workdays. You can become a member or update your membership online or at the sale. Our upcoming sale dates are:
Wednesday, September 27, 11:00 -2pm
No member sale in October - Public Sale
Check the Events Calendar for the latest dates and times.