CNPS SCV Native Plant Lecture Series

The CNPS SCV Native Plant Lecture Series has something for everyone -- whether you're curious about native plants, an experienced or aspiring native plant gardener or a professional botanist, you will find something to interest and educate you in our offerings. From gardening to plant science to conservation to tours of botanical hot spots, if you're interested in California's native plants, there's something here for you. Most of our lectures are in the evening, although we occasionally schedule them during the day. Our talks are live presentations followed by Q&As with the viewing audience. They are live streamed simultaneously to Zoom and YouTube. They are all recorded on YouTube, so you can see them later on our YouTube channel: https://www.youtube.com/c/CNPSSantaClaraValley
---
Upcoming Talks
Wednesday, October 21, 2020 7:30pm
CNPS Vegetation Program: Fine-scale inventory and mapping, a talk by Julie Evens
Julie Evens, the Vegetation Program Director of CNPS, will give an overview of CNPS's Vegetation Program and our broader collaborations on fine-scale vegetation classification and mapping in California to document our state's incredible vegetation diversity. Julie helps maintain standard methods for surveying, classifying, and mapping vegetation in California and works with agencies, conservancies, and CNPS chapters on vegetation assessment projects, including current projects in the Greater Bay Area, Mojave and Sonoran Deserts, Sierra Nevada foothills, North Coast, Modoc Plateau, among other regions. She is a co-author with John Sawyer and Todd Keeler-Wolf of A Manual of California Vegetation, 2nd edition (http://vegetation.cnps.org), and she is a co-editor with Michael Barbour et al. of California's Botanical Landscapes: A Pictorial View of the State's Vegetation. She also helped compile the CNPS Fire Recovery Guide, 1st edition (available for download here: https://www.cnps.org/give/priority-initiatives/fire-recovery). Julie has a M.A. degree from Humboldt State University, and she has two B.A. degrees from the University of California–Santa Cruz.
Watch on Youtube
Watch on Zoom (Registration Required)
Monday, October 26, 2020 7:30pm
Wildlife of the Bay Area, a talk by Ameet Zaveri
We call the Bay Area our home. How well do we know the wildlife that inhabit this space? Over 400 species of birds, charismatic cats like puma and bobcat, even non-felines like Western Tiger Swallowtail? Can you tell a rattlesnake from a non-venomous snake? Do you know there are *two* whale-watching seasons every year?
Learn about these and other fascinating aspects of wildlife in the Bay Area from naturalist and photographer Ameet Zaveri. An avid naturalist from a young age and a long-time Bay Area resident, Ameet is the founder of the informative website
sfbaywildlife.info
. He will share pictures and information about when, where, and how to experience wildlife in the Bay Area, and answer your questions.
A large screen is recommended instead of a smartphone so you can enjoy the details in each high resolution image.
Watch on Youtube
Watch on Zoom (Registration Required)
---
Recent Talks
Planting Demo, Nursery Tour and QA session
There's a twist on our Going Native Garden Tour session in October -- rather than our usual garden visits, we'll be visiting the CNPS SCV and Grassroots Ecology Nurseries. Our 2020 fall plant sale is going to be online and will start immediately after the session (more information about the CNPS SCV plant sale at http://cnps-scv.org/2020-plant-sale, and Grassroots Ecology's at: https://www.grassrootsecology.org/online-plant-sales). Since you won't be able to come to the nursery to pick your plants out, we're doing our best to bring the nursery to you. This session includes a planting demonstration by Krzysztof Kozminski and tour of the nursery followed by a QA session with knowledgeable native plant gardeners from both nurseries so that you can ask for advice and get answers to questions about specific plants that will be available at their sales.
CNPS Explorers: A Botanical Quest in Asia & Europe, by Ken and Dee Himes
September 24, 2020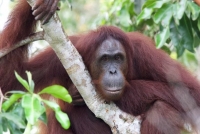 Join Ken and Dee Himes as they highlight their 2019 travels from May to November: a journey to Hong Kong, Borneo, Singapore, Penang, India and parts of Europe, on a botanical quest to compare flora and geological features with those of California. The main botanical focus of the trip was in Munsyari, the southern side of the Himalaya in the state of Uttarakhand, India. They will share some of their experiences from a once-in-a-lifetime trek in the Himalaya with three other Chapter members: Arvind Kumar, Ashok Jethanandani, and Joe Cernac. See a surprising geological feature in Hong Kong; orangutans in Borneo; amazing flora in the Himalayas; and other botanical interests in the other countries visited. Of course there will be some interesting insect and bug photos as well.
Ken and Dee Himes have been Chapter members since 1974 (Ken) and 2007 (Dee). Ken is a CNPS Fellow who has held nearly every Chapter position, in addition to leading long-term habitat restoration efforts at Edgewood. Since joining CNPS, Dee has been our Chapter treasurer, field trip chair and board member, a member of the CNPS State Board; and has inspired many with her exceptional photography skills. Ken and Dee were married in 2016, and have continued to celebrate by enjoying interesting plants and habitats wherever they travel.