CNPS Santa Clara Valley Native Plant Sales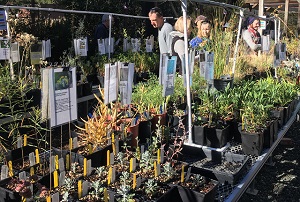 Next Members Sale: Wednesday, April 1st, 11am - 2pm THE APRIL SALE HAS BEEN CANCELLED DUE TO COVID-19.
Conserve water and make your garden beautiful with California native plants. Bring habitat value and a sense of place to the garden. Our chapter nursery has year-round plant sales for CNPS members, and a public sale in the fall for the public. A current inventory is usually available the week of the sale at http://www.cnps-scv.org/images/stories/nursery/current-plant-list.pdf. An illustrated list from Calflora of all the species (this does not include cultivars) grown at the nursery is available here. Please check the inventory for availability.
Check the Events Calendar for the latest dates and times.
Monthly Member Sale
CNPS members can purchase plants, t-shirts and "Native Plants Live Here" signs at our Members Sales held during some nursery workdays. You can become a member or update your membership online or at the sale. Due to limited volunteer resources, payment at member sales are by credit card only; we do not accept cash or checks. Our upcoming 2020 sale dates are:
Wednesday, April 1st
Wednesday, May 13th
Wednesday, June 3rd
No sale in July due to the Hidden Villa summer closure
Wednesday, August 26th
Wednesday, September 16th
Saturday, November 14th
Saturday, December 12th
---
Fall Public Sale
Our next Public Sale will be held on October 31, 2020. Fall is an excellent time to plant, when the summer heat has dissipated and rain is just around the corner. Come spring, you will be rewarded with a stunning display of wildflowers. A current inventory will be available the week of the sale at http://www.cnps-scv.org/images/stories/nursery/current-plant-list.pdf.

Our public Fall sale also offers the opportunity to browse T-shirts, books, posters, and note cards featuring native plants.
Volunteer signups at https://www.signupgenius.com/go/4090f49a9a729aafd0-fall2.
Discuss garden goals and receive plant selection advice. Grassroots Ecology and Coyote Brush Studios will also be there. Additionally:
11:30am: A planting demonstration by Krzysztof Kozminski.
1:00pm: A free talk: Success with Native Plants for Beginners by Kevin Bryant
Choose from scores of species of hard-to-find native plants: from deergrass and monkeyflower to redbud and blue-eyed grass, from orchids and lilies to ferns, salvias, buckwheats and more. You can check the weather at the nursery on our Bloomsky Weather Station.
Cash, check or charge. Bring a box for plants. Free parking. For more information: www.cnps-scv.org email: This email address is being protected from spambots. You need JavaScript enabled to view it. or call: 650-260-3450
---
Our Native Plant Sales provide the majority of the operating funds for the Chapter.
Location
Sales are held at the CNPS SCV Nursery at Hidden Villa, which is located on 26870 Moody Road west of Foothill College. From I-280 in Los Altos Hills, take the Moody Road exit and head west. Two miles west of Foothill College, look for the Hidden Villa sign and driveway on the left. Proceed over the bridge, and drive about ¼ mile to the large parking lot on the right. The nursery is just beyond the Dana Center. Cash, check, or credit cards are accepted. Bring boxes to carry purchases home. Free parking. No pets.
Pop-Up Sales
Pop-up public sales are also held occasionally during Chapter events such as the Wildflower Show, Going Native Garden Tour and Native Horticultural Symposiums. In 2019, our schedule includes: