Wildflower Shows
Wildflower Show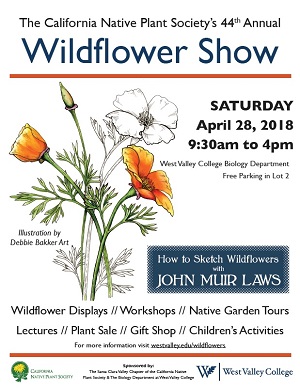 The 44th Wildflower Show will be held at West Valley College on Saturday, April 28 from 9:30 AM to 4 PM. The show will feature hundreds of species of wildflowers and native plants from Santa Clara, San Mateo and surrounding counties.  In addition to local plants, this year we are adding a new section featuring flowers from native plant gardens in our Chapter. Expert botanists and gardeners will be on site to describe different samples and answer questions. 
The show's theme is The Art of Conservation. California Native Plant Society Executive Director, Dan Gluesenkamp, will provide the welcoming lecture, Thoughts on the Magic of Native Plants followed by keynote speaker, John Muir Laws, who will give a talk on How to sketch wildflowers.  Native plant books, posters, and note cards will be available. Vendors including  Coyote Brush Studios, Impressed by Nature and Emily Chin will will offer a wide variety of wildflower themed items. You will be able to purchase native plants from the Grassroots Ecology Nursery, the CNPS SCV Nursery, and Larry Voss.
There will be a variety of activities for children as well as handouts listing places to see wildflowers.