Wildflower Shows
Wildflower Show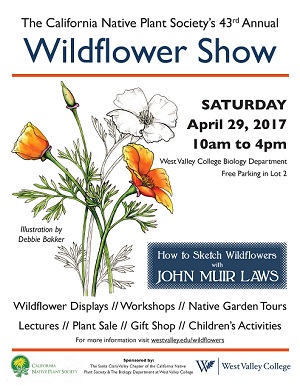 The 43nd Wildflower Show will be held at West Valley College on Saturday, April 29 from 10 AM to 4 PM. The show will feature hundreds of species of wildflowers and native plants.  Expert botanists and gardeners will be on site to describe different samples and answer questions. With the heavy rain this winter, we are expecting a prolific bloom of Northern California wildflowers.
The keynote speaker will be John Muir Laws, who will give a talk on How to sketch wildflowers. There will be additional lectures on wildflower identification, pollinators, choosing native plants for local gardens, and the Vasona Creek Restoration Project. Native plant books, posters, and note cards will also be available. Vendors such as  Coyote Brush Studios and Emily Chin will be there, and Midpeninsula Regional Open Space District will have a table with information about the opening of Mt. Umunhum. You will be able to purchase native plants from the Grassroots Ecology Nursery and the Jean and David Struthers Native Plant Nursery.
 A variety of activities for children will be available, as will handouts listing places to see wildflowers.