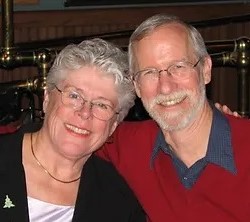 In 2021, the Santa Clara Valley Chapter of the California Native Plant Society (CNPS SCV) established a Horticulture Scholarship Program to support a local student pursuing a horticultural career with a focus on California native plants. Starting with the 2023-2024 academic year, CNPS SCV and Western Horticultural Society (WHS) have joined their native plant scholarship programs in the Richard and Bracey Tiede Native Plant Horticulture Scholarship, which provides $1,500 to its recipient. It is named in honor of two long-time CNPS SCV and WHS members, Richard and Bracey Tiede, who contributed much to both of our organizations. The couple had a long commitment to the advancement of native plant horticulture and we hope to honor them by awarding this scholarship to a student with a similar commitment to furthering the growing of native plants in local landscapes. Application deadline is February 15, 2024.
Requirements to Apply
Any student whose primary residence is in the Bay area and who is enrolled in a California community or other college or university horticultural program (or a high school senior who has applied and been accepted in a college horticulture program.)
The student has demonstrated a goal of furthering native plant horticulture and has already taken or has a plan to take before completion of their degree, a course in native plant horticulture or ecology.
The student has a minimum cumulative 2.5 Grade Point Average (GPA).
Two letters of recommendation: these can be from the horticultural program director, an academic teacher or another related (program, organization, company) leader.
The recipient of the scholarship should be willing to meet with representatives from the CNPS SCV chapter and the WHS to learn ways to connect with the groups and use group activities to enhance their career path. The recipient will also be asked to attend one CNPS chapter program and/or one WHS meeting to introduce themself or if unable to attend, record a short video, or contribute a short article of introduction in the chapter newsletter, The Blazing Star and the Western Horticultural Society Bulletin.
The recipient of the scholarship will also receive a complimentary membership to the California Native Plant Society.
Application Process
Fill out application form here: https://cnps-scv.org/hort-scholarship-application
Application deadline is February 15, 2024.
Send a sealed official transcript from your college or high school (copies or unsealed transcript not accepted) to the address below, and
Original sealed letters of recommendations should be sent directly to the address below and postmarked by February 15, 2024:
Western Horticultural Society/ CNPS-SCV
Attn: Scholarships
P.O. Box 166
Mountain View, CA 94042
If you have any questions about the scholarship, please contact This email address is being protected from spambots. You need JavaScript enabled to view it..
Donors
If you would like to contribute to the scholarship fund, a check written to "CNPS", with a notation of "Horticulture Scholarship" may be mailed to the address below. Company matching programs are welcome.
The Treasurer, CNPS Santa Clara Valley Chapter
3921 E. Bayshore Road, Suite 205
Palo Alto, CA 94303