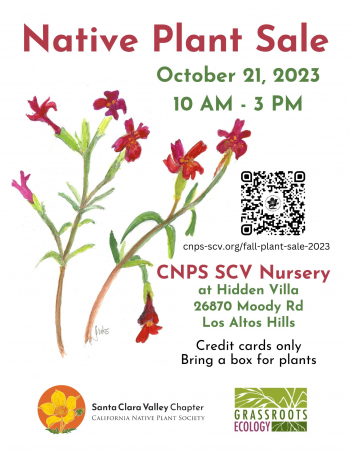 Native plants bring beauty and habitat value to your garden. Discover the possibilities at our Native Plant Sale at Hidden Villa in Los Altos Hills on Saturday, October 21, 2023, 10:00 am to 3:00 pm.
The sale includes plants from the CNPS SCV Nursery as well as the Grassroots Ecology Nursery. For the first time since the pandemic started, plant shopping will be in the nursery and at the Grassroots Ecology booth. No preorders!
Browse T-shirts, books, posters, and note cards featuring native plants. Coyote Brush Studios will have a wide variety of products featuring California wildflower and wildlife, and Emily Chin will be there with pressed flowers art and more. Get help with your gardening questions at our Native Plant Advice Table where plant professionals and knowledgable native plant gardeners will answer your questions about growing native plants.
Free Talk:
Success with Native Plants by Kevin Bryant. Kevin is a native plant landscape consultant and a past president of our Chapter.
Volunteers Needed!
Help us make the plant sale possible by volunteering. Sign up here: https://www.signupgenius.com/go/4090F49A9A729AAFD0-plant24#/
Members will receive $5 off their plant purchase (one per member). Not a member yet? For a limited time, join CNPS at a 40% discount - only $30 here: https://bit.ly/SALEFALL23 (don't worry when you see $50 as the price - it'll show up as $30 in your shopping cart), and bring a printout or image of your receipt to the membership table at the sale to receive a 50th Anniversary pin. You can also sign up at the sale if you prefer. The membership discount is only available for new members.
Proceeds fund chapter activities such as scholarships, the Wildflower Ambassador Program, field trips and more.
Hidden Villa is located at 26870 Moody Road, Los Altos Hills. It is 2 miles west of the I-280 Moody/El Monte Road exit. Free parking. Come early for the best selection; bring boxes to carry your purchases home. Credit cards only. No pets.