California native plants dominate the grounds at the West Valley College campus in Saratoga. It's an excellent place to appreciate a wide variety of mature plants in a garden setting.  Starting from the front of the campus, between the Administration building and Campus Center, one immediately encounters a huge bed of California fuschias fuschias (Epilobium canum)  interspersed with narrow-leaf milkweed (Asclepias fascicularis), salvia, coffeeberry (Rhamnus californica), California roses (Rosa californica), and blue oaks (Quercus douglasii). When the fuschias begin blooming in late summer, this area becomes a hummingbird haven, filled with  a charm of these tiny birds zooming around each defending their own patch of flowers.
This huge bed of flowers is a wildlife magnet – in addition to hummingbirds, the area is rich with a variety of birds taking advantage of the nectar, seeds and insects. As can be seen in this picture, the flower stalks provide a perfect perch for a pair of lesser goldfinches to enjoy a meal of fuschia seeds.
Behind the Student Center, there is a patio where Redbud and manzanitas have been planted. A variety of native columbines and other flowers can be found in the flowerbeds that surround the building.
The section of Vasona Creek that runs through the campus has also been restored, and is a delightful place to look for wildlife – including brush rabbits, lizards and more. There have even been reports of bobcats in the area. You c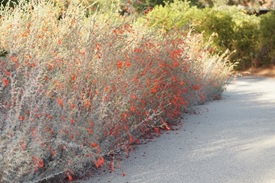 an find out more about this restoration project at: http://westvalley.edu/committees/Sustainability/Creek_Restoration/
A stroll through campus will reveal even more California natives. You'll find specimens of blue elderberry (Sambucus nigra ssp. caerulea), redwood trees (Sequoia sempervirens), deer grass (Muhlenbergia rigens), bush anemone (Carpenteria alifornica), buckeyes (Aesculus californica) and more. There's even a small bog with carnivorous plants next to the Science building. Be sure to look at the huge blue oak tree in the center of campus – watch it carefully and you are likely to spot the acorn woodpeckers that are often busily at work in it.
The Saratoga Farmer's Market is held at the campus on Saturday mornings – stop by and get some fresh produce and then take a stroll around campus.