CNPS SCV Wildflower Ambassadors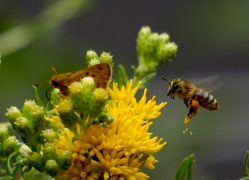 CNPS SCV Wildflower Ambassadors save butterflies, bees and birds by giving out wildflower seeds to help people make their gardens more welcoming to wildlife. If you've receieved seeds from one of our Wildflower Ambassadors, here's some information for you:
Learn more about habitat gardens and native plants on this webpage.
Did you receive a free wildflower seed packet from us? Go here for more information about the seeds you received.
About the Program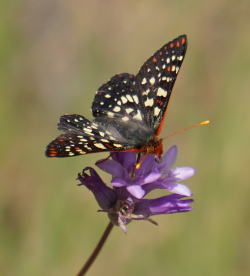 The Wildflower Ambassadors (WFA) program of the Santa Clara Valley Chapter of CNPS is an effort to foster awareness of the critical importance of native wildflowers and flora, and a push towards increasing the habitat value of hundreds of home gardens in the Bay Area. Ambassadors work to increase butterfly and pollinator habitat in urban and suburban spaces outreach via outreach through localized social media channels such as Nextdoor combined with the distribution of free packets of local wildflower and milkweed seeds. They also reach beyond the virtual community to introduce people to the natural world around them.
The program works as a team effort with Jennifer Dirking, the founder and inspiration for the Bring Back Bay Area Bees and Butterflies (BBBABB) group on Nextdoor, the Chapter is recruiting volunteers to be Wildflower Ambassadors (WFA).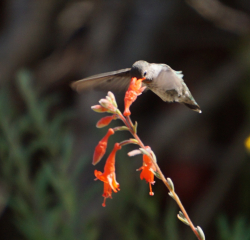 Jennifer's inspiration came from Doug Tallamy's talk for the Chapter where he clearly outlined how our gardens are "Nature's Best Hope" (also the title of his NY Times Bestseller) for fighting back against the "insect apocalypse." The habitat created by wildflowers supports essential insects like bees (pollinators), butterflies, moths, who eat flower nectar and pollen. In this important cycle of life, butterflies and moths lay eggs on host native plants, and caterpillars emerge from these eggs and rely on the leaves of their host plants for their food source. These caterpillars in turn become baby food that birds feed their young ones. Without caterpillars food for baby birds would vanish and lead to a domino collapse of the ecosystem on earth that includes human life.
In the BBBABB Nextdoor group, members share ideas, invite friends to join, alert everyone about upcoming events, and post pictures of their gardens and of wildflowers they saw on hikes. The group has shared hundreds of posts and distributed many thousands of seed packets, each one covering a 100 square foot area, on average. By working together they are bringing about positive change and restoring both habitat and a greater sense of place and community.